Oink for Owensboro 2020
One Last Oink
It's official: the "Oink for Owensboro" pigs are going out to pasture.
See the Oink for Owensboro Pigs before they're gone.
Started in 2017, the giant, hand-painted pig statues are part of a philanthropic art project that has raised $100,000 for local non-profits while adding a little local flavor to the city.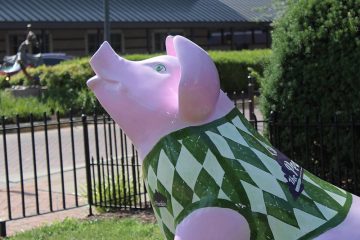 "The sculptures are really incredible works of art to have on display downtown," says Tim Ross, Director of Public Events for the City of Owensboro. "They remind us of the great partnership with Kentucky Legend and the sponsors helping raise so much for local charities."
After seeing the success of similar projects, like the painted horses of Lexington's Horse Mania project, Kentucky Legend Brand Manager Brooklyn Maple had the "pig idea" for Owensboro to do its own version as a way to encourage donations for local charities.
To date, 20 larger-than-life fiberglass pigs have been scattered throughout downtown Owensboro and surrounding areas, bringing color to the cityscape and reminding passers-by of Owensboro's long, rich history of agriculture, meat production and barbecue.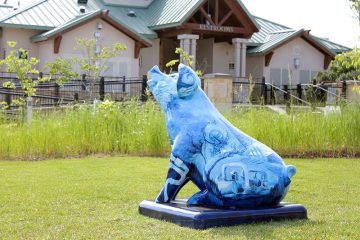 While traditionally hogs have a reputation for being selfish or greedy, the Oink for Owensboro pigs are a symbol of the city's generosity. Each statue represents a $5,000 contribution from an Owensboro organization to an area non-profit of their choosing.
Upon receiving their unpainted fiberglass statue, each donor had to put more than just lipstick on their pig. Donors were responsible for personifying their pig with a name and artwork before having it placed in a prominent location around town.
Alas, the Oink for Owensboro Project will officially come to a close in October of this year.
"Getting this project up and running was so much fun," says Brooklyn Maple, Brand Manager for Kentucky Legend. "And we're super thankful to all the groups that joined in and helped us hit our goal of raising $100,000."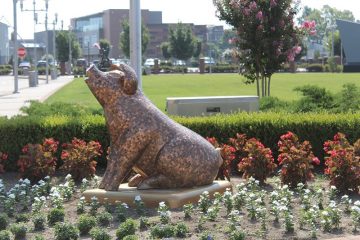 "While this project is obviously near and dear to our hearts, we've decided to move on in order to free ourselves up to consider new ways that Kentucky Legend can support our Owensboro community going forward," says Maple. "At Kentucky Legend, we're always brainstorming about that."
Even though Oink for Owensboro is coming to a close, a number of donors intend to keep their statues on display indefinitely. Even so, the best time to view the pigs on a walking tour is before the end of October, just in case some donors decide to relocate their pigs.
If you're not a fan of long walks, don't worry: all 20 "porks of art" will be corralled into one large "Pig Pen" in front of the Owensboro Convention Center from July 2, 2020, to July 7, 2020, for easy viewing.
From July 8, 2020, until the end of October, you can find the pigs at their locations listed below.