How Sweet (and Savory) It Is!
For a sweet and salty flavor combination that's out of this world, you need to try Chef Jamie Gwen's recipe for a Dulce de Leche and Cider glaze on your next Kentucky Legend ham.
Chef Jamie's been a guest judge on "Master Chef" and a contestant on "Beat Bobby Flay" among many other food show appearances, so she knows an impressive recipe when she sees one—and this Dulce de Leche and Cider Glaze is one of those just-got-to-share kind of recipes.
Dulce de leche is that delicious confection, popular across Latin America and Southeast Asia, that's created by boiling milk until it turns into a sweet, caramel dessert sauce. Added to apple cider, apples, onions, some mustard and other spices, it creates a sweet-savory-tangy glaze that's surprisingly irresistible on Kentucky Legend hams.
Chef Jamie's recipe makes a glaze for one of our whole hams (~8lbs), though you could easily cut recipe in half to make the right amount for one of our smaller hams.
Watch Chef Jamie's previous Facebook Live video showing how to make this glaze. Scroll below for full text of recipe.
Dulce de Leche & Apple Cider Glazed Ham
Ingredients:
1/2 cup Dulce de Leche
3 tablespoons Dijon mustard
3 tablespoons whole-grain mustard
2 large garlic cloves, minced
1/4 teaspoon cayenne pepper
2 cups apple cider
One 8-pound Kentucky Legend Whole Ham
2 Honeycrisp apples, cored and thinly sliced
1 large sweet yellow onion, thinly sliced
Directions:
Preheat the oven to 375°F.
In a small bowl, whisk the Dulce de Leche with the two mustards, the garlic and the cayenne. Whisk in 1/4 cup of the apple cider.
Score the exterior of the ham, about 1/4-inch deep, in a diamond pattern. Spread the apple and onion slices onto the bottom of a roasting pan.
Set the ham on top and add 1 cup of the apple cider to the pan. Cover the roasting pan with foil and roast the ham for 1 hour.
Remove the foil and brush the ham with the Dulce de Leche glaze. Roast the ham for 45 minutes longer, adding additional glaze, or until nicely glazed all over. Transfer the ham to a cutting board and let the ham rest for 15 minutes.
Pour the pan drippings into a small saucepan and skim off as much of the fat as possible. Set the roasting pan on top of the stove over medium heat, preferably over two burners.
Add the remaining apple cider and cook, scraping up any browned bits from the bottom of the pan. Pour the deglazed liquid into the saucepan with the pan drippings.
Whisk in the remaining 1/4 cup of Dulce de Leche glaze and bring the mixture to a simmer. Serve the ham with the glaze.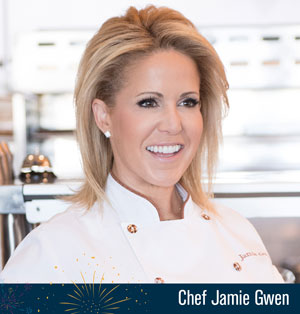 A graduate of both the Culinary Institute of America and Le Cordon Bleu in Paris, Jamie Gwen is a celebrity chef, syndicated radio host and cookbook author based in southern California. Chef Jamie's been featured as a guest judge on "Master Chef" and competed on the Food Network show "Beat Bobby Flay." Her other TV appearances include "The Martha Stewart Show," "Emeril Live," The Talk," HGTV, HSN, Bravo TV, DIY Network and more.
Her favorite ham is Kentucky Legend's Brown Sugar Ham.