Chef Jamie Gwen's Ham & Melon Summer Skewers
Summer's here, the weather's glorious and that means there are tons of opportunities for eating outdoors.
Especially with travel being somewhat iffy this year, small get-togethers with family and friends will become so much more important as many large-scale events get canceled this season.
Whether it's a backyard barbecue, picnic at the park or some other fun type of al fresco mealtime, Chef Jamie Gwen has an absolutely delicious starter to add to your shindig's menu.
Chef Jamie's Ham & Melon Summer Skewers are a riff on a classic prosciutto and melon salad. Threaded on skewers for fun, hands-on eating and better presentation, this recipe features cubes of cantaloupe or honeydew melon, slices of Kentucky Legend ham, leaves of fresh mint and a mustard vinaigrette.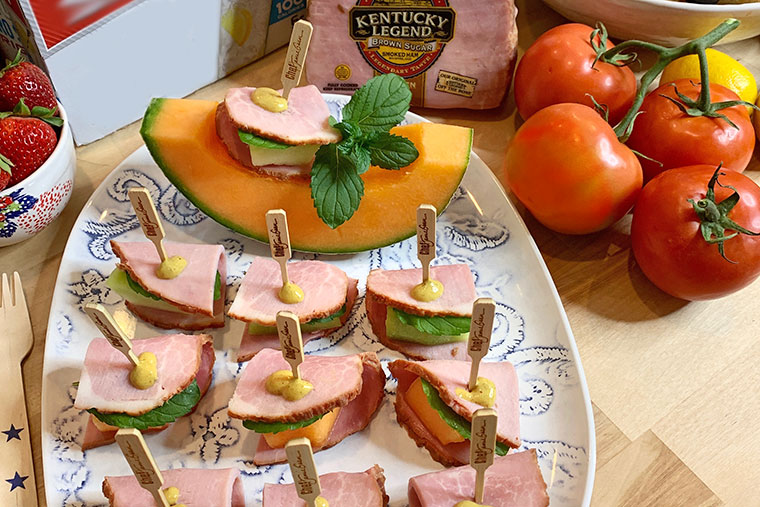 The sweet brightness of melon contrasts wonderfully with the rich, savory flavor of Kentucky Legend ham and fresh herbaceous mint, which is growing like crazy in so many folks' gardens by this time in summer.
The best part is this appetizer is quick, easy and can be thrown together in advance. Just store the Ham & Melon skewers in the fridge until serving time. They make a great bite to tide everyone over while the hot dogs and hamburgers are still on the grill.
Check out the video below or our Ham & Melon Summer Skewers recipe post for more details on how to make this fabulous seasonal appetizer.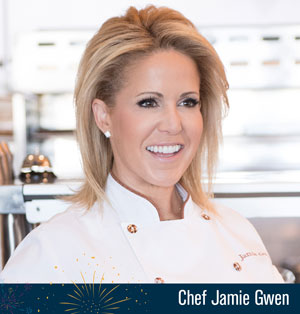 A graduate of both the Culinary Institute of America and Le Cordon Bleu in Paris, Jamie Gwen is a celebrity chef, syndicated radio host and cookbook author based in southern California. Chef Jamie's been featured as a guest judge on "Master Chef" and competed on the Food Network show "Beat Bobby Flay." Her other TV appearances include "The Martha Stewart Show," "Emeril Live," The Talk," HGTV, HSN, Bravo TV, DIY Network and more.
Her favorite ham is Kentucky Legend's Brown Sugar Ham.